Immatics US CEO Harpreet Singh
Harpreet Singh, the CSO and co-founder of Germany's Immatics Biotechnologies, has been splitting his time between Germany and Houston, setting up a new biotech company that will collaborate with top researchers at MD Anderson on overcoming some of the limitations to the adoptive T cell therapies now in the immuno-oncology pipeline.
Backed with more than $40 million of Immatics cash along with a $19.7 million grant from the state of Texas, the Immatics U.S. subsidiary plans to leverage some of the research work done by Patrick Hwu and Cassian Yee. The collaboration covers the use of cytokine IL-21 to expand high-quality T cell batches while also pursuing an allogeneic approach to T cell therapies that can generate an off-the-shelf treatment designed to be much more efficient than the leading personalized autologous tech now in the clinic.
Patrick Hwu
The spinout is being billed as a marriage between an experienced biotech company with considerable expertise in identifying cancer targets and leading scientists who have worked for years in developing T cell therapies. Hwu was named division head of cancer medicine at MD Anderson back in March, in part due to some of the groundbreaking work he did on first-gen chimeric antigen receptors, or CAR-T tech used to genetically engineer T cells into cancer attack weapons.
Yee, meanwhile, has been working with IL-21 to expand an ideal population of patient cells so they have not just the quantitative mass needed but the persistence required to trigger a durable response--a key to vanquishing cancer.
"IL-21 is one of the best cytokines to activate armed T cells," Singh tells FierceBiotech in a preview to today's announcement.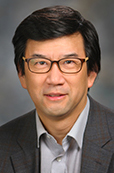 Cassian Yee
Immatics U.S. is following a trail that's already been blazed by some closely-watched biotechs partnered with top investigators. That wave includes Juno Therapeutics ($JUNO) allied with Memorial Sloan-Kettering; Novartis ($NVS) and the University of Pennsylvania; and Kite ($KITE), which is collaborating with Steven Rosenberg at the National Cancer Institute. Those pioneering treatments have led to some impressive early stage results as researchers adapt patients' T cells with CARs. But even ahead of late-stage trials, developers like Immatics have been lining up top talent to tackle the limitations of the breakthrough drugs, testing the boundaries of more easily produced therapies that can also work in solid tumors, expanding the applicability of the tech to a broader range of cancer targets.
For example, CAR-Ts are focused on surface targets on cancer cells, with CD-19 a favorite target in the field. But Immatics and MD Anderson, like Adaptimmune and others, are going intracellular with targets, better known as TCRs.
Right now, Immatics U.S. has 8 staffers after launching unofficially on July 1, says Singh. And it will ramp up to 40 full timers over the first three years, while Singh plans to explore the full gamut of partnerships and funding sources now in play in the immuno-oncology field.
Immatics, a 2007 Fierce 15 company, inked a separate I-O deal with MorphoSys this week, building around their platform on tumor-associated peptides.
- here's the release